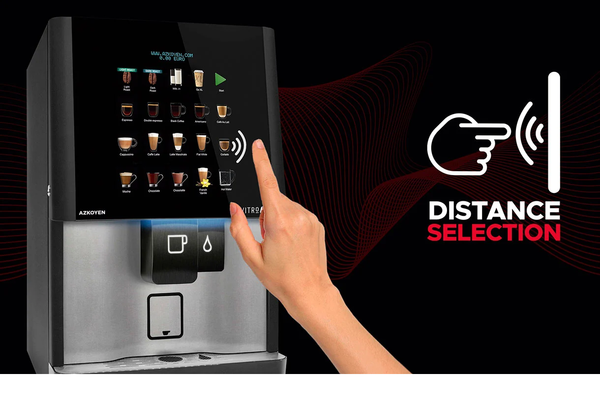 Selling fast in the Derby and Nottingham area, the latest in contactless dispensing technology.
We have seen an increase in the demand for machines that limit cross contamination in the last eighteen months. As approved stockists, we are able to offer the latest Hot Drinks machines that incorporate Air Touch Contactless Technology. On machines such as the Neo and Step the user can select their drink from a distance of up to 2 cms away from the surface, minimising the risk of cross infection. This up to the minute dispensing solution has improved consumer confidence in the use of vending machines in the working environment. With many machines already installed in businesses across the Derby and Nottingham areas including Beeston, Ilkeston, Giltbrook and Heanor, it is fast becoming an excellent addition or upgrade to any work space. We have a range of solutions ready to offer, from Air Touch hot drinks machines, to contactless payment solutions, to foot pedal operated water coolers and much more.
At Automatic Refreshments we can offer a fully managed operating and maintenance service for all your vending requirements. Our hot drinks machines offer a range of quality, coffee shop inspired options and dispense the user a full 9oz drink in paper cups. We can also offer your staff a wider range of refreshments including snacks, crisps, cold drinks and water coolers alongside your hot drinks machine. For the smaller office environment, working with our partner company, Vending Superstore, we can supply table top hot drinks machines and all the necessary ingredients for a fill it yourself option, with full training given on installation. Vending Superstore offer a wide range of products from cleaning sundries to biscuits to stationary for a one top shop experience for your office.
Call the office today on 01455 230133 and discover how we can assist your business with your vending requirements. We cover the East Midlands, West Midlands, South Yorkshire, Northamptonshire and beyond.