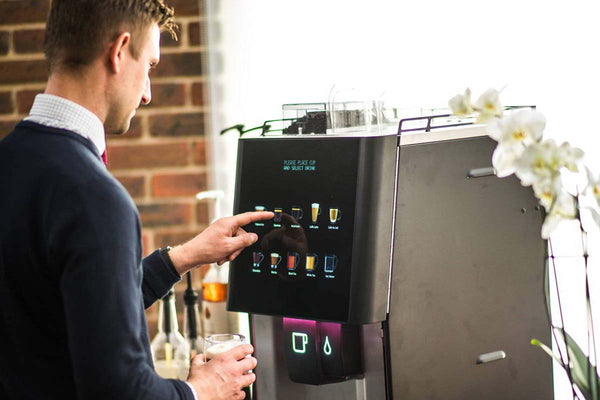 Is a Free on Loan Hot Drinks Machine Really a Better Deal?
We often get customers saying they don't want to be tied into a lease or that they've been offered a free hot drinks machine free on loan. What many people don't realise is that often these so called 'deals' can end up more expensive in the long run, whilst tying you down more than a fully managed leased machine.
We did some investigating on behalf of a customer who had been approached by a leading UK supplier. The leading supplier promises a 'pay only for your drinks' deal, this is using an incup vending machine. We're not a huge fan of incup drinks machines here at Automatic Refreshments, the ingredients for your drink are already inside the cup and the machine just adds hot water meaning you have to offer 'coffee white', 'coffee white with sugar', 'coffee black' 'coffee black with sugar' all as separate options, meaning storage of a lot of different drinks.
Our machines allow you to customise your drink to your taste, adding sugar & extra whitener along the way. Even our basic entry level machines allow you to do this and our team will keep your machine topped up, cleaned and ready to use as part of the service meaning your not having to operate the machine yourself, or store ingredients on site.
Using the terms & conditions of one such company – they offer a free on loan incup machine, they offer this on the assumption you will do a minimum of 2,700 drinks per month (and will bill you for this amount, even if you don't) , they also tie you in to a 72 month agreement which is 6 years (longer than our standard lease terms of 39 and 63 months).
To cover the cost of the machine they charge a much higher cup cost than our managed services. In actual fact they charge 20.43p for tea and 25.53p for all other drinks.
They count tea as one drink, and all other drinks as 1.25 drinks. Assuming a third of all drinks served are tea, you will be charged for and vend 900 teas and 1,440 other drinks (2,340 total minimum drinks a month)
This gives you a total outlay of £551.50 per month, or a total of £39, 708 over the 6 year period.
If you took out a 39 month lease for our Java machine and did the same number of drinks we have calculated the average cost would be £365.73 per month, a total saving of £185.77 a month, £2,229.24 a year or a staggering £13, 375.44 over the same 6 year period. We don't charge any extra management fees for this, set minimum vend figures or bill you for what you haven't used. Vend more than this and save BIG!
Our table below shows the cost of this so called 'better deal' vs our 39 month leases on our Java machine.
The table below assumes that a third of drinks will be tea each month.
On average we find that each member of staff will drink 3.5 drinks per day, so 2340 drinks a month is roughly 540 a week, 108 a day, 3.5 drinks per day per staff = 31 staff so even a smaller company can save big money by leasing. Anything more than 2500 drinks a week and we would recommend a second machine.
Total Number Of
Drinks A Month
Average Cost Per Month
(Free on Loan Machine,
72 Month Term)
Average Cost Per Month
(Our Machine,
39 Month Term)
Saving Per
Month
Saving Per
Year
Saving Over Six Years
(72 months)
2340 (540 a week)
£551.50
£365.73
£185.77
£2,229.24
£13,375.44
4,333 (1000 a week)
£1032.58
£584.96
£447.62
£5,371.44
£32,228.64
6500 (1500 a week)
£1548.98
£823.33
£725.65
£8,707.8
£52,246.80
8,666 (2000 a week)
£2065.16
£1061.59
£1003.57
£12,042.84
£72,257.04
As you can see, the free on loan deal is certainly not the better offer! We'd even go as far as to say you can have one of our top of the range machines and STILL save money. Get in touch with us today on 01455 230 133 to see what we can do for you.
* All prices and terms and conditions taken from competitors website, prices correct at time of this article. The above numbers above are cited as an average cost based on our current costs.